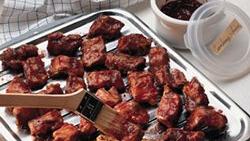 Image Credit bettycrocker.com
Ingredients
3

pounds fresh pork riblets or 1 rack (3 pounds) pork back ribs, cut lengthwise across bones in half
1

cup whole berry cranberry sauce
1/2

cup hoisin sauce
1/2

teaspoon onion powder
1/4

teaspoon salt
1/8

teaspoon pepper
Directions
1

Heat oven to 375ºF. Grease broiler pan rack. Trim fat and remove membranes from pork riblets. (For ribs, cut between bones into serving pieces.)

2

Place pork, meaty sides up, in single layer on rack in broiler pan. Cover with aluminum foil and bake 50 minutes.

3

Mix remaining ingredients. Brush pork with half of the cranberry mixture. Bake uncovered 10 to 20 minutes longer or until pork is tender. (If using Do-Ahead Tip, stop here.)

4

Heat remaining cranberry mixture to boiling in 1-quart saucepan. Serve with pork.